Inspired by the bentos from Cooking Cute, I decided it was high time to give bento preparation a shot. This isn't the first time I prepared a packed lunch, or even a bento; I remember when people would have a look-see at what they referred to as my occasional food styled or art directed packed lunches. But this is one of the first times I've documented my lunch. And hopefully, not the last.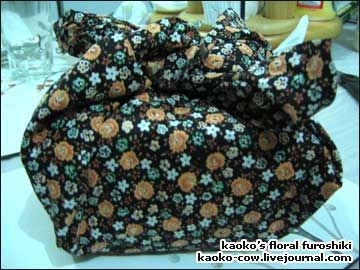 Feeling Japanese, my bento packed with a pseudo furoshiki. (In reality, just a large piece of cloth. Will sew this weekend to make into a real furoshiki.)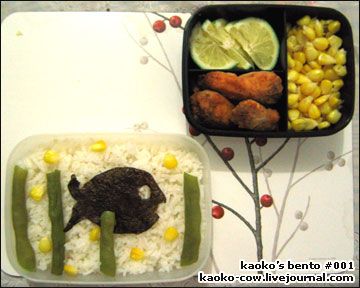 My first documented bento! Fish fillet, lime slices (for the fish), and corn kernels (from corn on the cob), with rice. The fish thing on the rice is a nori cut-out while the "seaweeds" are steamed wax beans.