Bento, not only for me, but for Pad as well. See? I can be nice sometimes.
Top Tier: Rice with veggie furikake, a heart-shaped salmon patty with a bit of gouda cheese on top, carrot flowers (with gouda cheese centers), and a flower-shaped container of sweet-chili sauce (fresh from the bottle :P). I left it open while taking the pictures so the carrot butterfly can be seen.
Bottom Tier: Carrot sticks, more Salmon Patties (just plain round ones this time, it's hard making hearts manually), and tulip-shaped squidballs.
There's a small cup of lychee jelly at the top of the piccie, but then, you can barely see it.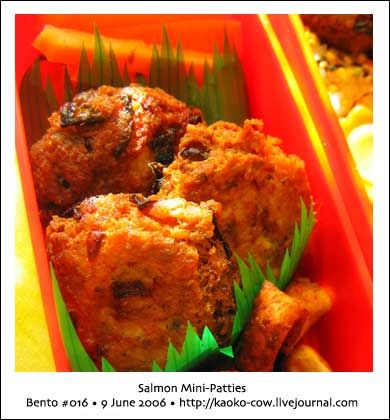 His Bento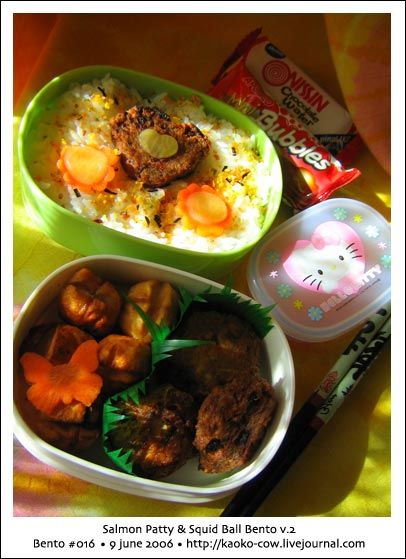 I never realized it was harder packing a bento for another person, since I had to take into account his tastes and food quirks. And my boyfriend doesn't eat carrots in big quantities so I skipped the carrots for his box, except for the garnishes. Only other veggie I had at home was a bag of peas, and he hates that even more. His bento also has more rice since he has a bigger appetite.
Top Tier: Rice with veggie furikake, Heart-shaped Salmon Patty, and carrot flowers with gouda cheese centers.
Bottom Tier: Flower-shaped Squidballs & Salmon Patties. With a butterfly carrot.
Packed separately: Sweet chili sauce (in the Hello Kitty sauce box), Nissin choco wafers and choco bubbles (chocolate wafers with hollow bubble shapes that are filled with chocolate spread, then covered with chocolate all over). He doesn't like lychee jelly so I kept the last pack for myself.