It's been horribly hot during the day lately, despite the rains that generally fall in the evening. So, a cold bento is exactly what the doctor ordered.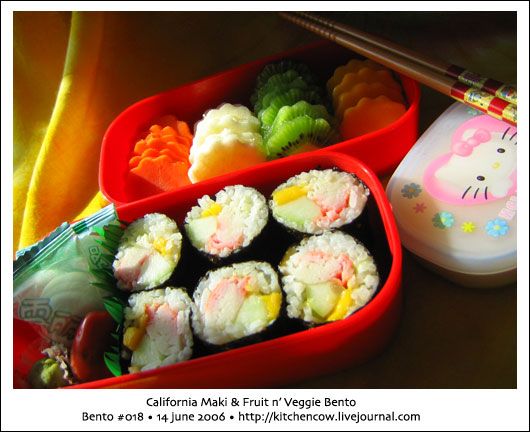 Sushi Tier:
California Maki. I can't do reverse rolls to save my life though, so the nori stayed outside. And since I don't have salmon roe lying around in the house, my maki simply had kani (the surimi kind), fresh mangoes, and seeded cucumbers, dressed with kewpie mayo and some wasabi. I added a strawberry container of soy sauce, and a little lump of wasabi. I generally don't like my food moving around in my bento, so I stuck in a couple of green tea marshmallows.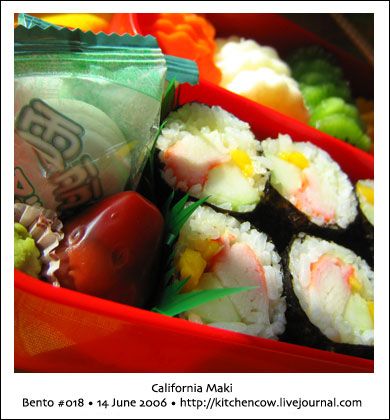 Fruit & Veggie Tier:
I love seeing everyone's rainbow colored fruit trays so I wanted to do my own version. However, I don't have ready access to berries, nor to a lot of fruit since they spoil easily here in the tropics. So, my fruit & veggie tray has fresh carrots, jicamas, kiwi, and mangoes.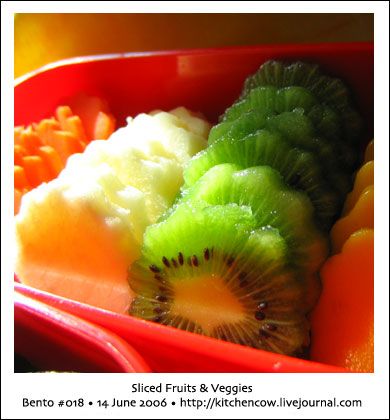 Add-ons:
A small Hello Kitty container of Mango Pudding, which I was too lazy to dress-up. Not shown is a small container of milk to drown my pudding in.