…and so he went off a-courting his geisha lady love.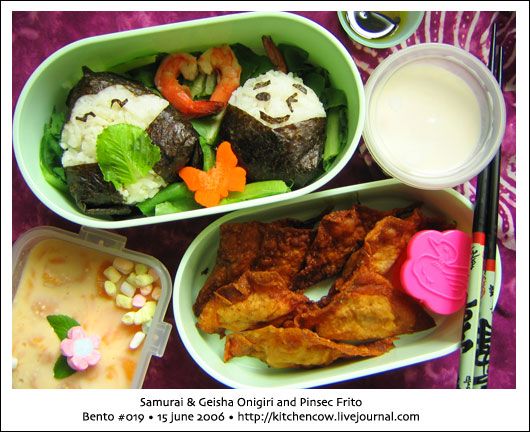 Heehee, it's quite obvious I had some fun putting my bento together today.
Top Tier:
Tuna & Kewpie mayo onigiri dressed up as a geisha. I used nori for her kimono, hair, and eyes, and a small romaine leaf for her fan (yes, that's supposed to be a fan, hwehwehwe). Samurai-san is a plain onigiri with a shrimp stuck behind his head as his top-knot. This was the first time I tried making a hand-rolled onigiri since I didn't know how to make the shrimp stick-out with an onigiri mold; I think Samurai-san came together pretty well, albeit a little smaller than his onigiri mold formed geisha love. Both onigiri are resting on a bed of bite-sized romaine. I added a shrimpy heart and a butterfly carrot as accents.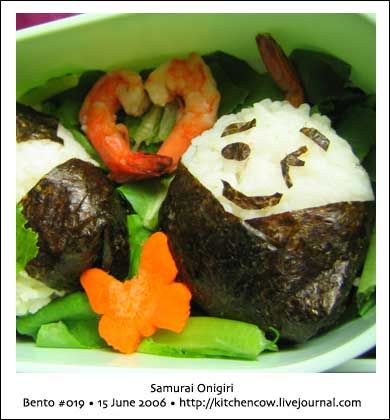 Bottom Tier:
Home-made pinsec frito with sweet chili sauce.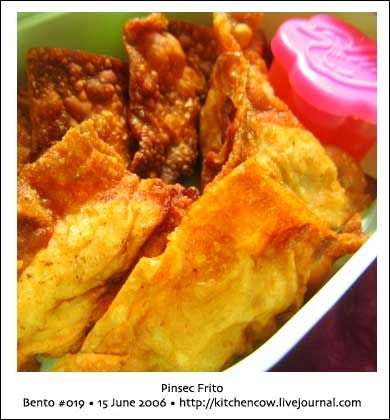 Dessert Box:
More mango pudding. (Told you guys I made a lot, hwehwehwe.) Accented by mini-mini marshmallows, a marshmallow flower, and mint leaves.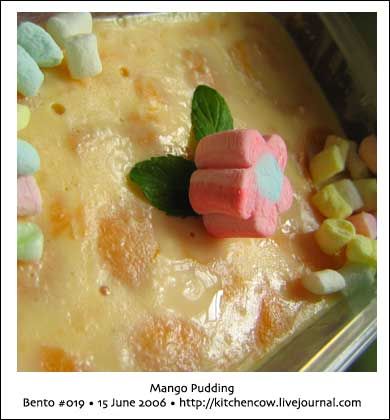 Add-ons:
A container of milk for the pudding, and a container of olive oil and balsamic vinegar for the romaine.