It was only after I had uploaded today's bento pics when I realized that my bento's theme was rolls! The lumpiang shanghai is a local version of spring rolls, and the enoke dake is golden mushrooms rolled in bacon.
top tier:
Lumpiang Shanghai Bites and Fried Rice. I like cutting the Lumpia into little bite-sized pieces before frying. Cutting not only makes them more fun and crispier, but also cuts the cooking time, specially since I usually fry them straight from the freezer. It's easier for me to make large batches then just freeze them for future use.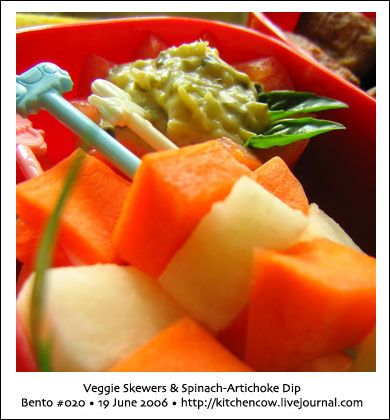 bottom tier:
Veggie skewers! Crunchy cubes of fresh carrots and jicamas, strung alternately on cute animal tipped plastic skewers. My favorite is the cow tipped skewer, of course 😀 Served on the side is a dollop of Spinach-Artichoke dip (from Conti's) on a carved tomato flower (or maybe crown?) with little basil leaves. To the right is a bunch of enoke dake, that's enoke / golden mushroom wrapped in honeycured bacon.
dessert mini-bento:
Kiwi slices with a little marshmallow flower. Looking at it now, it sort of reminds me of a face with big googly eyes and puckered up lips.
add-ons:
A pair of green tea-filled marshmallows, for tucking under the bento top cover.
Needless to say, with a spread this yummy, I definitely can't wait to eat lunch.