When you wake up unable to choose between making onigiri and california maki, you have to reach a reasonable compromise. Like an onigiri with california maki fixings inside!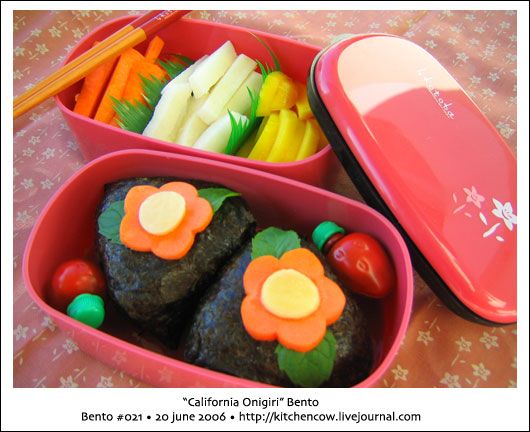 (Actually, I started writing a short short story to start this entry off, but halfway through it, I realized I won't be able to eat my lunch, not after I gave the onigiri personalities. I mean, it was an insecure baby onigiri crying to his okasan! How can I eat something like that? -_-;;)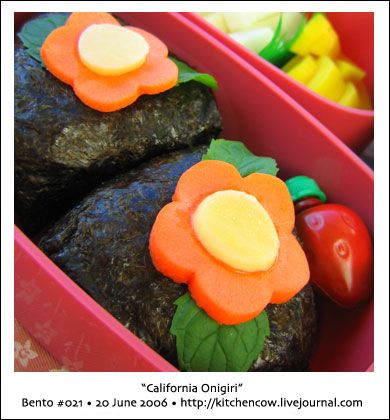 bottom tier:
A pair of onigiri stuffed with shredded kani surimi, sliced mangoes, and kewpie mayo, then wrapped with nori. To garnish, I placed carrot flowers with gouda cheese centers and mint leaves. For seasoning, I slipped in a pair of ichigo-shaped containers of soy sauce.
top tier:
Fruit & Veggie tray. Carrot sticks, jicama sticks, and mango slices. Can you say 5-a-day?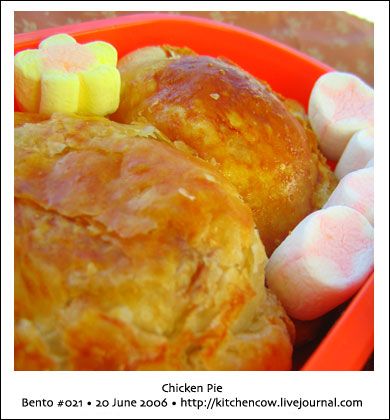 snack bento:
A pair of chicken pies from Conti's (a really yummy deli-style bakeshop / resto), adorned with marshmallow stars & flower.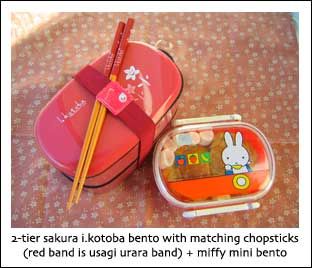 And because my sakura i.kotoba bento's finally making it's debut, here's the pic of it all together. I ended up buying another tier because a single layer wasn't enough for my daily food needs. I bought the matching chopsticks and furoshiki, but since I couldn't find the matching bad, I had to borrow the red band from my usagi urara set. My Miffy bento's feeling neglected lately so she sneaked in to get her picture taken too.