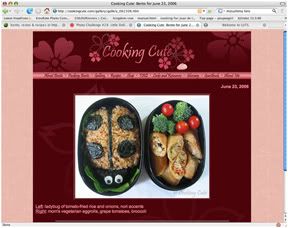 Contrary to what some people may think, I didn't just wake up one morning thinking, "Hey. I think I want to prettify my lunch today!" Despite my addiction to anime, manga and J-drama, it never really occurred to be to start preparing bento until I ran into Cooking Cute. At that time, it wasn't even Cooking Cute yet, but just a livejournal account owned by mmmbento.
One of the earliest English-language bento blogs on the net, Cooking Cute showcased more than just pretty, cute bento but ideas, tips and recipes as well. It was a treasure throve of tips and suggestions to get you started on the actual bento planning and packing. It was also crammed full with photos featuring various cute touches which are sure to inspire.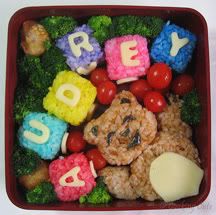 Personally, I find it unfortunate that Ngoc, Cooking Cute's owner hasn't updated in a while. Last I heard months ago, there was a bun in the oven, so she's probably busy with being a mom now. Still, despite the lack of updates, Cooking Cute remains a good site for information and inspiration. Remember to check out the recipes, guides and the gallery.
All images in this post, except for screenshot, is property of Cooking Cute.